The definitive playlist of songs about cars, trucks and driving
You can read our methodology below, or click here to skip right to the playlist.
Wrenching on cars and listening to music go hand in hand. Any work with your hands sure goes a lot faster and easier when you've got good tunes in the background. It gives you a little more energy and motivation to get the job done … or at least take your mind off the really crappy jobs.
At the same time, cars and trucks are also a fairly common theme in music, whether in the titles, lyrics or album titles, and even artist names themselves. You can pretty easily compile several hours of songs with some sort of automotive allusion – probably a whole workweek's worth if you also count any reference to roads or driving in general. There are almost countless songs that briefly mention someone driving to or from something, use a vehicle or road as a metaphor for something else, or just have a stray mention of a Chevy or Benz.
There are far fewer, but still quite a few, great songs that are truly about cars and trucks. Songs where the story is centered on a vehicle, or it's at least a consistent theme throughout, and not just a convenient rhyme. These songs actually describe the artist's passion for (or frustration with) their automobile.
Wouldn't it be awesome to have a playlist of all these automotive-themed songs that you could throw on in the garage? Certainly a lot better than the AM, FM or even satellite radio most shops seem to have playing constantly, recycling the same tired songs or predictable hot takes. It also adds something when the music's relevant to what you're doing, just like love music on a date, party music at a party, or workout music at the gym.
You would think someone would've already put together a definitive list somewhere. Surprisingly not, at least as far as we could find.
Oh sure, there are plenty of lists online like "greatest songs about cars and driving," but almost every one we found was totally superficial. Not calling anyone out here, but the top Google hit for "songs about cars" when we were writing this was an article titled "100 Greatest Songs About Cars and Driving," and we couldn't say it better than one of the commenters: "It's amazing how many songs on this list have NOTHING to do with cars!"
It's like, sure, "Highway 61 Revisited" by Bob Dylan has highway in the title, but the rest of the lyrics have precisely zero to do with cars or driving. "Life in the Fast Lane" by the Eagles is about a hard-partying lifestyle, and just happens to use an automotive idiom. "99 Problems" by Jay-Z is about a bunch of his problems, one of which happens to involve getting pulled over by the police. "Backseat Freestyle" by Kendrick Lamar is supposed to be a freestyle in the backseat of a car, and only mentions a Maserati in one line, but that's apparently enough to get it on several lists titled something like "Best Rap Songs About Cars." Like, c'mon, did they even listen to the songs?
The other thing that's annoying is every list we found was genre-specific. For instance, it would only have rock, or only country, or only hip-hop, when all these genres are filled with memorable automotive references. Not sure if this is some kind of apparent bias in these lists, but our team likes good music of all varieties, and you or your team might have varying tastes as well.
So, the Shop Press team started compiling a list of anything we could think of, and pretty soon we had hundreds of songs and hours of music, which we winnowed down to what we thought were the best songs that are actually about cars and trucks. Here was our criteria.
1. Must have a true automotive theme
This was the hardest part, because sometimes it was obvious, while other times it was more of a judgement call. We considered how extensive the references were throughout the song. Is the automotive reference only one line, or one verse? If you removed the motor vehicle mentions, would the song substantially change?
Of course, many songs just use automotive references as thinly veiled sexual metaphors. As one writer noted in an essay on Prince's "Little Red Corvette," "From Robert Johnson's 'Terraplane Blues' through Chuck Berry's 'Maybellene' and even the Beach Boys' 'Little Deuce Coupe,' the car is fast, beautiful, and dangerous: You want it, but you know you should know better. Car songs are songs about lust."
When this was clearly the case, we allowed it if the automotive element was thorough. "Trampled Under Foot" by Led Zeppelin, for instance, is pretty clearly "talkin' 'bout love," but it features nine verses of car references, so we included it.
It was very hard to stick to this rule, not only because it's debatable, but also because it meant we had to cut a bunch of tracks that we really love, but didn't truly fit the theme. In addition to the songs mentioned above, other examples of exclusions include:
One of the hardest cuts was "Life to Fix" by The Record Company, which could definitely be an auto repair anthem, although the lyrics are ostensibly about putting a life back together, not a Jeep. Just goes to show we took this mission seriously.
2. Must be relatively safe for work
We all know the F-bomb is one of the most well-worn tools in any mechanic's tool box, but we also know that doesn't mean all shops want to be blasting explicit music. It's not a great look if the service writer opens the door to the garage and the customer hears Dr. Dre painting a vivid verbal picture about sex, drugs and murder on "Let Me Ride."
That meant we didn't include anything that was absolutely NSFW, while still letting a few expletives here and there slide. We took the PG-13 approach – a few curses or obscene references was OK, but if it was clearly excessive it got cut. Some songs had censored versions available on Spotify, but that felt even more lame to us.
This unfortunately led to cutting a bunch of classic songs. Some of the younger people on the team were heartbroken when we had to delete a few of these tunes:
Another honorable mention here was "Regulate" by Warren G and Nate Dogg. This one was a stretch – think window regulators. Of course, it's neither about cars nor safe for work, but extra credit for creativity.
Are we totally overthinking this? Yes, we are absolutely are. But at least now you know why some seemingly obvious and undeniably good songs aren't on the list. And if you want to create your own playlist that's a little less literal, or a little more vulgar, you've got some suggestions to get started.
Unveiling the best songs about cars and trucks
So, without further ado, we introduce to you the definitive playlist for when you're working on cars or driving them. If you're still playing the same lame AM and FM radio in your garage, throw this on and let us know what you think. Even better, if you have a Spotify account, make sure to like the playlist to add it to your library. 
A few additional notes on the selections here:
The range of vehicle makes and models turned out to be a lot broader than we expected going into this. You've got plenty of the prestige vehicles from different eras – Cadillac, Camaro, Corvette, Land Rover, Mercedes, Mustang, Rolls Royce, Thunderbird, Trans Am, etc. – but we also found some passionate references to the Civic, Crown Victoria, Malibu, Subaru, Toyota, Western Star and more.
"Daddy's Cup" by Drive-By Truckers is both a foot-stomping, inspiring story and the rare automotive-themed song by a band with an automotive-themed named. Despite all that, we didn't find it on a single other list of car songs. This is an absolute crime.
"Gear Jammer" by George Thorogood & The Destroyers might be the best heavy-duty truck driving rock song ever, and we also didn't see this on a single other list we found. Doesn't make any sense.
"You're Gonna Get Yours," an ode to Chuck D's Oldsmobile 98, was the first song on Public Enemy's debut album, and, again, was absent from almost every other list we found of best hip-hop songs about cars.
Some songs, like "Trampled Under Foot" and "Skidmarks On My Heart," we had heard many times before but didn't realize how many automotive references are in the lyrics.
What do you think? We plan to continue adding music whenever we find it, including any suggestions you have. If you think we missed anything, definitely let us know in the comments.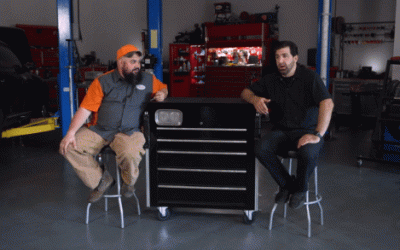 Anyone who's turned wrenches knows at least one "spray 'n' pray" technician. Just keep throwing parts at the car until...