A sheep at the wheel: what I learned at the Ford ST SUV Experience
I used to disdain any microprocessor-driven automotive add-on that by default encouraged unfocused, irresponsible, or just downright idiotic behavior behind the wheel. Just another nail in the coffin of the can-do-ism that made America great, huffed I. Had parallel parking, toggling between regular and high beam headlights, and maintaining a safe following distance on the interstate become so incredibly challenging that we needed onboard technology to handle it for us? Why couldn't everyone just appreciate being one with our  magnificent machines, and bask in the sheer satisfaction of being a skilled driver? You know, like me?
After two days at a new performance driving school for new owners of shockingly fast Ford SUVs, I'm a repentant convert: Automotive sensors, cameras and software absolutely save lives. I also learned I'm not nearly as skilled as I believed, a disappointing realization blunted only by the fact that my classmates proved I have lots of company.
A little personal history about my previous career as a freelance writer before I became a Dormanite is needed here for context, so bear with me.
Thanks to automakers' insatiable demand for glowing reviews from journalists, and the inexplicable confidence they demonstrated in my judgement by loaning me vehicles for which I had no financial responsibility whatsoever, in my old life I was able to drive and write about a lot of cool cars and trucks. It was a dream gig for someone who (a.) loves motorized vehicles more than they deserve to be loved as inanimate objects, (b.) believes there's no better vacation than a cross-country road trip at speeds far exceeding posted limits, and (c.) bores way too easily.
You'd think that being able to thrash—sorry, I mean thoroughly test—different rides on a regular basis would've cured my very expensive lifelong habit of flipping my personal daily driver about every two or three years. You'd be wrong. I'm always looking for bigger or better or faster or newer wheels, or any combination thereof that will fit my budget, drum kits, and mountain bikes.
Which is how I wound up in my current Ford Explorer ST. Because who doesn't need a black-on-black, 400 horsepower, 4,700 lb. AWD SUV that does 0-60 mph in 5.3 seconds while unapologetically embracing an utter lack of off-roadability? The Explorer ST isn't built to crawl rocks. It's built to haul ass, and it does so quite well, thank you very much, while coddling owners with every autonomous driving and luxury feature Ford could trowel onto it. "ST" stands for "Sport Technology," by the way, and given how many places the race-red ST badge is plastered all over the truck, it's good the designers went with the acronym rather than the long form.
The Blue Oval knew that all that "Sport Technology" combined with the prodigious power of a twin-turbo'd, three-row road rocket masquerading as a utility vehicle might overwhelm some first-time buyers. To save those customers from themselves and Ford's media relations folks from sleepless nights doing damage control for the kind of gruesome autonomous vehicle crashes normally reserved for their counterparts at Tesla, the company introduced the Ford ST SUV Experience.
That's my take on it, anyway. Ford's is understandably more genteel:
"The new ST SUVs don't just go fast – they do so with control, style, and sophistication valued by you and your passengers. These smart, and sporting, choices in transportation require us to deliver an experience to you that demonstrates their outstanding athletic abilities and technological features using both a controlled setting and public roads… and do all of which in an appropriate and safe manner." – ST SUV Experience website
(Read: "You just plopped down a crap-ton of dough for a vehicle that can either thrill you or kill you. Please come to our free school to learn how to ensure your experience is the former and not the latter.")
The two-day ST SUV Experience is a performance driving course available to every new owner or lessee of an Explorer or Edge in Ford's hot shoe ST trim. Participants can choose to attend their complimentary Experience at Ford's Performance Racing School locations in Park City, Utah, or Asheville, North Carolina. The course has been wildly popular since its debut in 2020 and dozens of annual sessions are booked up months in advance by owners eager to, as the registration website promises, "be exposed to the vehicles and what they can do like never before," while enjoying a long list of luxury perks that emphasize recreation more than racing.
As you (and Ford's marketing department) would expect, the laid-back vibe implied by the event description resonated with my wife, who heretofore had never expressed a whiff of interest in tagging along when I attended actual auto and motorcycle road racing schools. In fairness, those schools were in exotic locales such as Wadesville, West Virginia, and Blakeslee, Pennsylvania. This time, though, Mary was rarin' to take full advantage of the Asheville location's "Guest Program" that boasted an inside look at the famous Biltmore Estate, wine tastings, garden tours and more, while I smoked the tires and lit the fires with the cool kids in my class. Our respective together-but-separate plans for the weekend thus confirmed, we hit the road for the 10-hour drive to North Carolina.
After checking into our very nice comped room at the Village Hotel on Thursday evening on the spectacular Estate grounds, we joined our fellow Ford ST owners at a private dinner reception where we were greeted by members of the Ford Performance Racing School faculty. I collected my school credentials, a schedule of events, and a seriously upscale backpack loaded with equally upscale swag. Props to the Blue Oval, thought I, for crushing the ST branding: Every instructor, every sign, and every bit of merch was emblazoned with that uber-cool ST logo.
I admit it, the carefully calculated surroundings and exclusivity made me feel a wee bit special. And let's face it, it's no small marketing feat to evoke warm fuzzies about a vehicle that's not a Porsche, Ferrari or other exoticar that costs more than my house. Well played, Ford. Well played.
Go Time
A fitful night's sleep later, I reunited with my fellow bleary-eyed classmates and their guests at the ST Experience staging area, a circus-sized tent a short walk from the hotel. Next to the tent, dual exhausts burbling vapor into the pre-dawn gloom, a fleet of 2021 STs in assorted colors idled in a door-to-door formation precise enough to impress Patton. Thirty of 'em, in fact, one for each student and instructor, with attendees and their respective plus-ones assigned to either an Explorer or an Edge, depending on which vehicle they'd purchased or leased.
Settling into my ride for the day I immediately noticed a two-way dashcam and a two-way radio neatly installed in the console. A few minutes later the lead instructor's voice crackled over the cabin's audio system, explaining the rundown for today's class. We'd be in groups of five vehicles, each led by an instructor. The dashcam was ours to control to record video of the events of the day as frequently as we wished, and the radio was for students to receive instructions given by our group's instructor during skill-building drills. We'd also be hearing a steady patter of narration about our vehicles' unique capabilities while our extremely noticeable convoy cruised at a soul-crushing but understandably law-abiding speed up the scenic Blue Ridge Parkway on our way to the school. Very slick.
But enough with the remote chalk talk, I thought. I'm here to shoot apexes, drift through turns, accelerate with abandon, graciously acknowledge the oohs and aahs of impressed onlookers, and generally flog a truck that's identical to mine but way better because someone else is paying for it.
Exactly one hour and our first skill drill later, I discovered I was just another schmuck in a fancy grocery-getter.
Branding, Bonding, and Belittling
At performance driving schools I've attended in the past the emphasis was on essential skills-building, not on pedal-to-the-metal speed. That "go slow to go fast" racing axiom applies at the ST Experience, too. The goal is to learn how to make the most of the SUV's advanced handling capabilities with the underlying assumption that you'll never need to push those capabilities to their limits. Accordingly, our first live driving drill demonstrated our vehicles' emergency maneuvering capabilities, or what Ford calls "Evasive Steering Assist with Automatic Emergency Braking."
The drill seemed simple enough: Line up single-file facing an L-shaped outline of cones. When the instructor signals "go," hit 20mph through the 100-foot-long part of the L, and without touching the brake pedal, turn hard left 90 degrees into the short part of the L while leaving the cones untouched. Sounds easy enough, right? Other than the fact that, as would be the case for the entire day, the instructions for the drill were completely counter to every driving habit I and most of my classmates had formed over our years of (mostly) incident-free miles.
On my first run, I did my best to try to convince myself that I wasn't going to execute a low-speed rollover of a $60,000 truck, but it didn't help. I hit the brakes before the turn and took out every cone. Failing to hide his mirth at this epic failure, my instructor tried to console me with Karate Kid-style Zen advice—"Believe to achieve," or something like that, I was too embarrassed to pay attention—and I lined up for run number 2.
Same result, only this time not because I hit the brakes but because in my zeal to NOT commit the same cone massacre, I accelerated to well over 20+ mph, couldn't make the turn cleanly, and scared the hell out of the instructor in the process. No Zen advice this time, just a good-natured "slow down, you'll get it eventually" accompanied by a scrutiny of my facial expression that I assumed was an evaluation of my mental state.
On my third and final try I nailed it, and no cones suffered. Or more accurately, the Explorer nailed it, thanks to an obviously effective integration of a forward-facing camera and radar, distance sensors, automatic braking, steering torque calculation software and more. I'm absolutely sure I had little to do with the achievement because my eyes were closed.
Drill number 2 required even more counterintuitive confidence in the same onboard technology. This time, we'd drive 200 feet between another straight lane of safety cones, hit 20mph, and roughly 20 feet before what seemed be an imminent collision with an inflatable wall painted to resemble the rear of a car, plant both feet on the floor and "let the emergency braking system take it from there."
In case you didn't fully grasp those instructions, let me recap for you: Drive an Explorer into a wall and assume neither you nor your vehicle will subsequently need repairs. Inflatable or not, a wall is a wall, friends.
Fortunately, three of my classmates were in line ahead of me and watching their successful execution of this kamikaze drill and hearing no telltale sounds of MedEvac helicopters approaching, I was filled with confidence. Misplaced confidence, apparently. Because when it was my turn to launch, although my Explorer did in fact come to a full and merciful stop just a foot short of the inflatable wall, it did so with no small amount of tire smoking. Pointing gravely at the digital radar speed sign blazing "28mph," the instructor sounded a bit like the last state trooper that I'd (ahem) met, intoning "A little slower next time, okay?" I gave him a thumbs-up and a "sorry about that, coach" shrug, but couldn't let go of the realization that I had just purposely driven a multi-ton vehicle toward a wall at almost thirty miles per hour and said vehicle had stopped itself. Whoa.
The day was filled with drills and moments like these, and because we all seemed to fit somewhere within the demographic you'd expect, good-natured ribbing from classmates and instructors became the norm. The ST's automatic parking feature show-and-tell was a particular hoot, with instructors tirelessly exhorting student after student, "don't touch the steering wheel," "foot off the brake," and similar instructions that only make sense in an autonomous driving Bizarro-world like this one. We collectively laughed through the ST's token "offroad" adventure, using the 360-degree camera and electronically managed crawl control to avoid caving in our quarter panels on trailside boulders.
The "final exam" for the class was truly a sight to behold, a short-course gymkhana with a chance to show off our newfound skills while tossing our bloated SUVs around a timed course. Every student had two attempts to navigate a circuit of straightaways and tight turns at the highest speeds their respective driving prowess could handle, with time penalties for every safety cone touched during the run. It was the closest thing to racing we'd do all day, and it was plenty. I redeemed my earlier humiliations by placing in the top 10 but by then I couldn't have cared less. I'd experienced under carefully controlled conditions what I hope to never experience under any other circumstances: high-speed emergency maneuvers, emergency braking, autonomous safe driving features and more, all enabled by onboard tech that could protect me, my passengers, and fellow drivers from my own human shortcomings. It was worth a reality check about my perceived skills behind the wheel to become a believer in the value of those upgrades.
Does all that digitally enabled gadgetry increase the cost of vehicles? Yep. Does it increase repair costs? Sure. Just like electronic power steering. And ABS. And air bags. And for that matter, your infotainment system. Let's see a show of hands out there of folks who want to back to the days before those improvements to driving safety and convenience.
Go ahead, I'll wait.
The articles and other content contained on this site may contain links to third party websites. By clicking them, you consent to Dorman's Website Use Agreement.
Shop Press Comment Policy
Participation in this forum is subject to Dorman's Website Terms & Conditions. Please read our Comment Policy before commenting.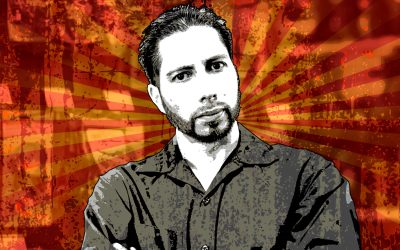 If you write service or sell parts, angry customers on the other side of the counter are an occasional part of the...