A cheap bore scope is your best friend for prepurchase inspections
As the strong used car market continues, prepurchase inspections (PPIs) are an increasingly valuable resource for buyers seeking top-notch buys in a competitive market. The good news? While car values soared over the last few years, prices of borescopes (also called inspection cameras) have plummeted. Let's look at a few ways that these cameras can help with PPIs and other jobs around the shop. But first, it might be best to talk about some borescope basics.
What is a borescope? Why would a mechanic use one?
A borescope is an optical device used to observe confined or hard-to-reach spaces. It allows you to visually inspect many parts of a vehicle without complex disassembly. On most borescope units, you can even record photos and videos to share with a customer to show what you found. The first borescopes were rigid tubes with eyepieces for inspecting gun bores. The modern evolution of this device uses a small camera on the end of a cable, typically assisted by a ring of lights. How small? Even budget 'scopes have camera diameters of 8mm or less! At the other end of the cable, a display shows a real-time feed from the camera. This could be a dedicated display or a smartphone running a dedicated camera app. The display may have controls for brightness, contrast, and other adjustments for improving image quality.
I used to work with a guy who said half of wrenching is being able to see your problem. Borescopes are ideal for getting eyes on places that are hard to reach. Dead rodent stinking up the HVAC? Send in the camera to see exactly where Stuart Little kicked the bucket instead of pulling the system apart piece by piece.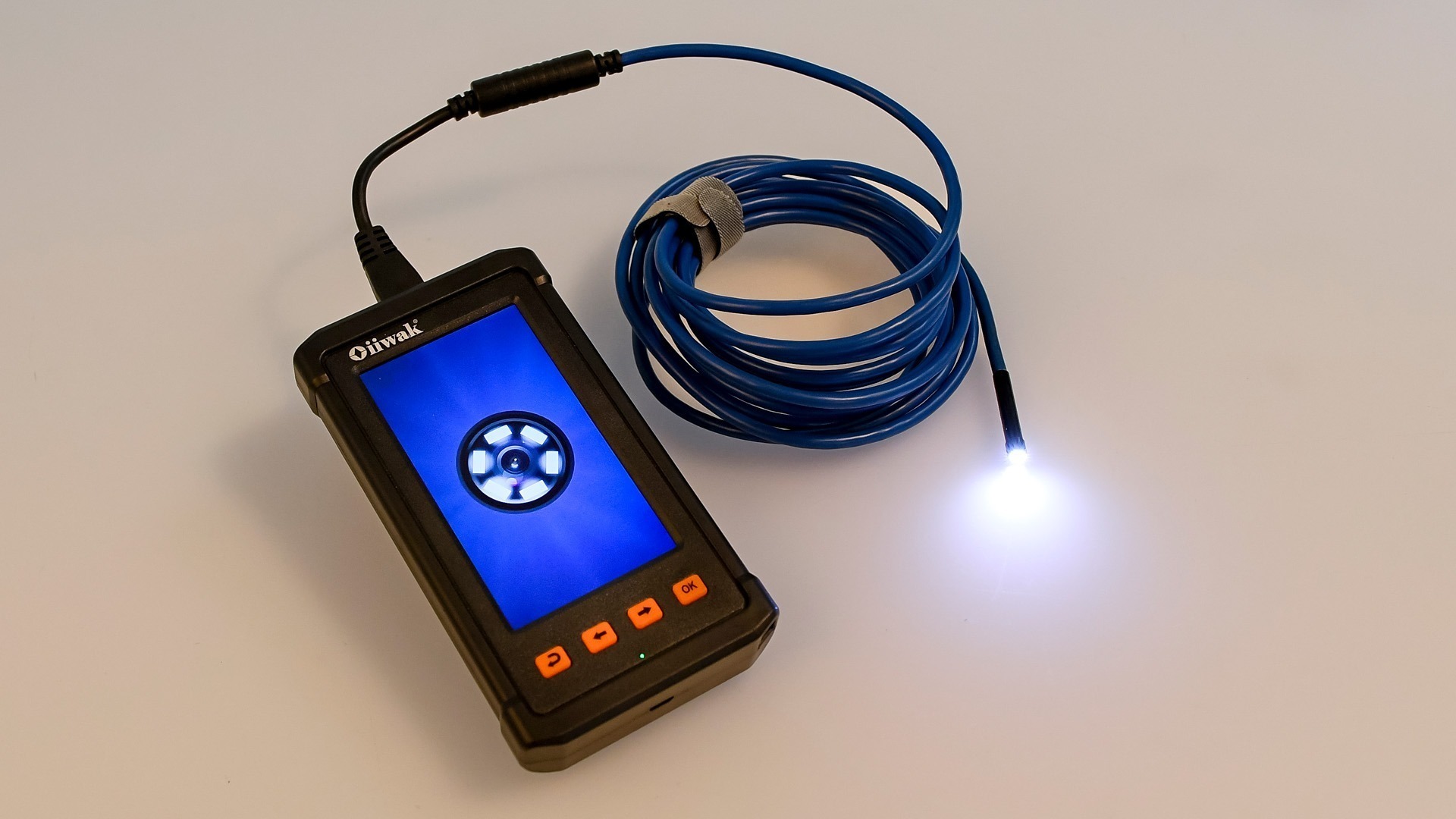 A borescope is an optical device used to observe confined or hard-to-reach spaces. It allows you to visually inspect many parts of a vehicle without complex disassembly. Photo: Mike Apice.
Are borescopes expensive?
Back in the day, a good 'scope was a $1,500 specialty item that was probably owned by the shop. It wasn't the kind of equipment that an individual mechanic might casually own. The barrier to entry is much lower these days, though, and now a useful borescope can be had for around $60 for a single camera model, or roughly twice that for a dual camera version. These devices are purpose-built for saving labor, and depending on what you think your time's worth, an inexpensive borescope might pay for itself the first time you use it.
Borescopes for prepurchase inspections
Whether you're a professional tech performing a PPI for a customer, or a DIYer looking at a project car, you'll be dealing with the same problem: checking out a vehicle you don't own in a short amount of time. Any inspecting must be minimally invasive. And you'll probably be working solo on a tight timeline. This is the borescope's ideal environment!
As an example, the plastic chain timing guides on BMW's N20 engines are known to crack and break apart. Savvy Bimmer shoppers know this, and they'll also want proof that the timing chain guides aren't about to self-destruct before buying the car. Normally, you would need extensive disassembly to fully inspect the guide for cracks or missing chunks. Is it worth your time to start pulling the engine apart to check the plastic's condition? A borescope inserted in the oil fill hole is a quick and effective way to assess the health of that chain guide. Cracks or missing chunks of guide will be easily visible.
To continue the BMW example, let's say the inspection finds that the timing guide is due for replacement. At least the engine hasn't been disassembled, so the car can wait in the lot until the necessary parts arrive. This frees up your bay for other work in the meantime.
As you might have guessed from the name, borescopes are great tools for scoping out cylinder bores. Even budget models have adequate resolution to see cylinder wall crosshatching. Single-lens 'scopes will need mirror attachments to get the entire picture (included with many models), but the dual-lens versions can toggle between views with better detail. Some models even have articulating tips for detail work. Of course, a borescope is not a substitute for a complete engine teardown, but it can give you a lot of insight with minimal work. Coolant leakage from a bad head gasket will be very apparent, whether from visible weeping or a shiny "steam cleaned" piston dome. Personally, I've seen melted ring lands, heavy carbon buildup, chipped valves, and a holed piston on my borescope's screen.
How about frame and chassis inspections? Poke the camera around inside frame rails, especially on rust-prone vehicles with fully boxed frames that cannot be inspected visually. This is also the time to investigate any rot-prone areas. Grab some photos for proof while you're down there.
Another time-saving feature of a borescope is retrieval. Make sure your 'scope comes with hook and magnet attachments, even if you don't plan on using them. I was working on an intake when a washer slipped from my hand and rattled down into the engine. Doh! I attached the retrieval magnet to my camera, fished out the washer, and got back to work. That's a bit of an extreme example, but what about fasteners that have fallen down onto a plastic splash guard? Instead of removing the guard or banging on it like a timpani to shake the wayward bolt out, just snake the magnet and camera in to remove the guesswork.
Assuming you're an automotive mechanic and not a quantum mechanic, you can only be in one place at a time. That's a bit of a limitation when trying to observe something under a vehicle or inside the engine bay while troubleshooting with a test drive. A borescope can come in handy if you want to see what a specific component is doing while driving. Tape or zip-tie the camera probe with a good view of your suspected problem, hit record, and go for a drive. You should get a pretty clear picture of what's going on down there without much risk or effort.
What else can you do with a borescope around the shop?
Here are a few more places to poke a borescope for a handy view of hard-to-reach areas.
In the drain pan to see if the pickup screen has clogged
In the manifold to look for carbon buildup on valves
Into an exhaust pipe with a bend to examine converter monolith integrity
Into a valve cover to see if there's oil sludge portending VVT issues (or just to make sure the previous owner kept up with oil changes)
Into a dash to see if an air door or actuator is functioning correctly
Pointed at a DVOM that can't be seen from the cockpit if you need to manipulate controls to test
In a frame/subframe rail when attempting to thread blind fasteners, like during a hitch installation
Bonus tip: Ever have a drawer in your box jam when a tool gets wedged against the inside? Poke the camera in there to see what's causing the trouble. (Or just learn to stop overfilling the screwdriver drawer in your box.)
What about borescopes that connect to a smartphone?
Inspection cameras for phones are also an option. You'll see them for as little as $20 online. While I'm sure there are some good ones out there, I have not been impressed with any of the smartphone cameras I've tried. The cables weren't stiff enough to maneuver with confidence, the interfaces were clunky, and the photo quality left a lot to be desired. Personally, I'd rather not rely on Bluetooth, WiFi, or third-party apps for a tool like this. Besides, I try to keep my phone as far away from underhood/undercar work as possible, but I know there are plenty of folks out there using phone-based borescopes without issues.
Whether you're checking out a vehicle for sale or even just repairing the usual fare, a borescope is worth its weight in gold. Have you used a borescope to save time or identify an issue? If not, are you thinking of some situations where one might help? Drop your experiences and suggestions below!
The articles and other content contained on this site may contain links to third party websites. By clicking them, you consent to Dorman's Website Use Agreement.
Shop Press Comment Policy
Participation in this forum is subject to Dorman's Website Terms & Conditions. Please read our Comment Policy before commenting.